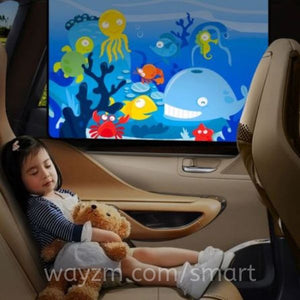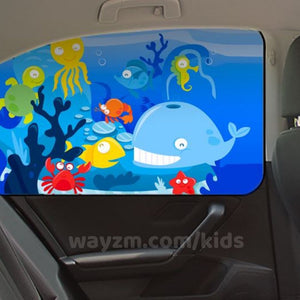 (2 Pcs) Kids Magnetic Curtain
STUDIES SHOW THAT IF KIDS EXPLORE COLORS BEFORE THEY NAP, THEY GROW UP TO BE 39% SMARTER. 
Every little kid will love looking into these ocean colors and let their eyes wander the true beauty of natural colors they use in drawings.
This awesome, The Kids Magnetic Curtain is made with the finest materials that allow kids to touch and play with it.
Fun decorative print. The Kids Magnetic Curtain is perfectly functional and offers four layers of UV protection to keep your kid safe. You can't put sun blocker on every time you leave to grab something from the store!
It has magnetics for holding your kid magnetic curtain. The straps on the back feature a classic look, with adjustable sizing.
INSTEAD OF ONE WINDOW BEING COVERED, YOU CAN BUY TWO FOR A BETTER PRICE. SELECT BUY 2 FROM THE DROPDOWN MENU ABOVE.  
The Magnetic Kid's Curtain will not affect the ability of the drive to see on either side.
FIT ALL CARS AND MODELS
FOR EVERY PURCHASE, WAYZM.COM WILL DONATE
THE PROFIT FOR KIDS IN NEED.
PLEASE FOLLOW HEALTH AND SAFETY GUIDELINES IN YOUR LOCAL AREA, KEEP YOUR KID'S SAFETY SEAT 4-8 INCHES AWAY FROM THE DOOR.  
24-HOUR DISCOUNT SALE