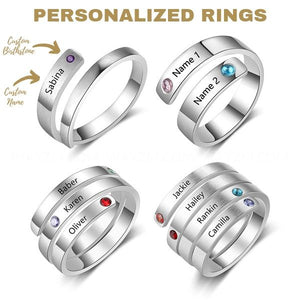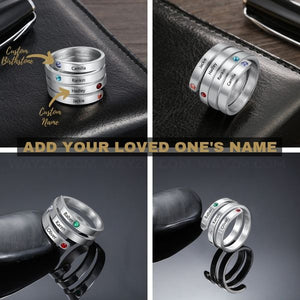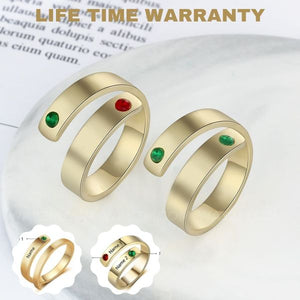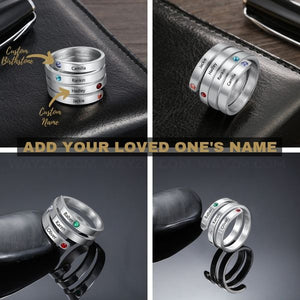 Personalized Engraved Birthstone Ring
Engraved in four languages. English, Portuguese, Spanish, and French.
Ship From United States, Deliver in 4-6 Days. 
You Can Adjust The Ring To Any Size You Want.

Personalized your Ring which is not only meaningful but shows your unique style.
Personalization ideas: family ring, mother's ring, in the memorial ring, inspirational ring, survivor ring, class ring. engrave names such as lovers, parents, friends, sister's and grandparents. You order it, we engraved it and match all birthstones. 
See what our customers saying down below.
Real Reviews… Real Pictures
. 
You are free to choose the color of the
simulated birthstone
, after typing the names in the name's field. Let us know what you would like us to match for the color of the birthstone by placing the month in full (like March or April).
Good for any occasion, Holiday Seasons are coming soon, so get yours before we run out of stock.  
Design your ring in either a
single
band, a
double
band,
three
bands or
four
bands. Use your creativity to choose names or words important to you to create a
Personalized Engraved Ring with Birthstone
. 
All models will be for only $39.99 and 10% will be donated to support breast cancer awareness.
If you order more than one, use discount code "SMART" to save 10% of your entire order. If you would like to add more names for all your orders, please reply to the confirmation email after placing your order.
Ideas for
personalization
of your Custom Ring: 
Create a personalized engraved ring that is special to you. You can create a family ring and have the names of you, your spouse and your child stamped on each band. Or you can make it a Mother's Ring and stamp each of your children on the bands. Or maybe you or a friend need inspiration, you can stamp any words you want on each band that have meaning to you.
Sizing: When determining your size, we ask that you give us a size that is a snug but comfortable fit. If you are unsure of your size, select resizable from the options above. 
What customizable engraved birthstone ring does to create an heirloom piece:
• Each item is
created by hand
~ from designing the original piece, to hand-stamping, the personalization, polishing, packing and shipping ~ we oversee your piece from start to finish to make sure it is made with love.

• We design all our products and do not use pre-fabricated blanks. This means our jewelry typically is heavier in weight making it sturdy enough to wear for a lifetime.

• This gift can be wrapped in our signature lavender and rosebud packaging. So, whether it is a gift for you or someone else, the surprise you get when you open the box will make you smile! (Coming Next Month).

• Just a few people who have given our products their stamp of approval: The Today Show, People Magazine, Southern Living, Parents Magazine and many more!

FAQ:
Is the silver finish shiny or matte?  A: Matte

Will this ring turn my finger green? A: No

Can I adjust this ring? A: Yes

What kind of metal is it? A: Stainless steel

Does it ship locally from unites states? A: Yes

Is it hand Made? A: Yes

The "ruby" looks orange? It should be red.
A: It's a light-colored red, it definitely does not look orange in person.