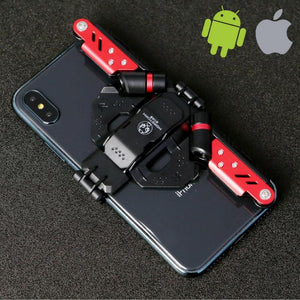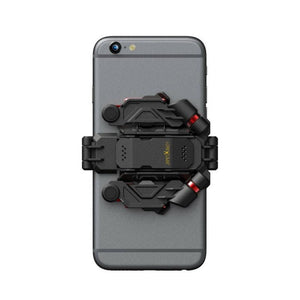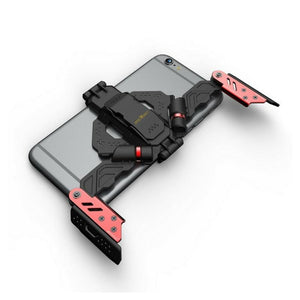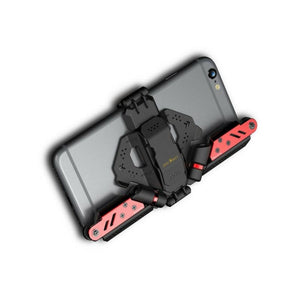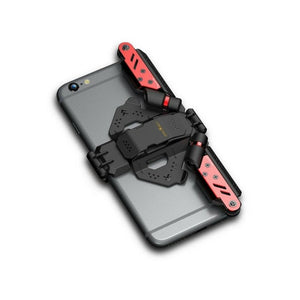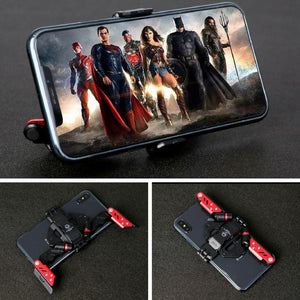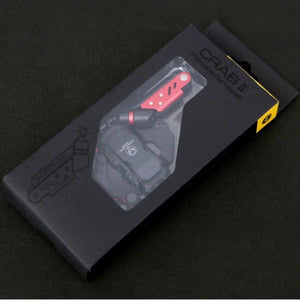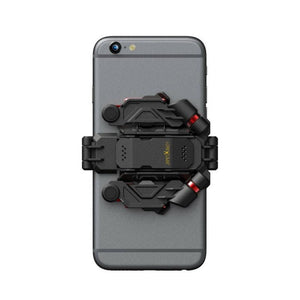 donkey crab fold able game pad
THE WORLD'S FIRST INTEGRATION OF GRIP AND JOYSTICK
The world's first integration of grip and joystick, solving the problem of the clumsy controlling of the touch-screen games! The controller gaming grip case has an ergonomic design and comfortable feeling to relax your hand's fatigue for any long-time gaming sessions. The Built-in stand clip attached at the back of the grip, adding more convenience for your phone. Compatible with all touch-screen smartphones. The telescopic boom design allows you to adapt to different sizes of smartphones (All androids & iPhones).
FOLDABLE GAMEPAD
~ ERGONOMIC DESIGNS ~
EXPERIENCE
Fantastic GAMING EXPERIENCE: The 180-degree rotational handle grip has an ergonomic design and it feels comfortable to relax your hands from fatigue for the long period of gaming.
GAMEPAD
GAMEPAD & STAND HOLDER: It looks like a crab, you can control this gamepad more fluent and will feel more comfortable when you play the games. Release your hands to watch video horizontally or vertically screen with any angle.
RETRACTABLE
Widely ADAPT TO VARIOUS MOBILE PHONES: Retractable phone holder fits all cell phones(Androids + iPhones). Have a Phone case? No Problem, The Donkey Crab Will still adapt to your phone. So there is no reason to remove your case.
WARM MESSAGE 
If you have any confusions or questions, we will provide the best customer service and try our best to bring a tailored solution for you. You will get a full refund if the product has any quality problems.

HIGH QUALITY MATERIAL
It is made up of ABS and aluminium alloy to offer full protection for your phone. Moreover, it comes with a calm and heavy-duty mechanical design, provides a sense of incomparable cool and shows off a fashion and unique style.
POWERFUL FEATURES
It is durable, safe and non-toxicity. Besides, it has UV abrasion paint surface treatment.
FANTASTIC GAME DESIGN
Collapsible crab claw fighting joystick is perfect for mobile game lovers. The Phone Holder release your hands for video and film watching.
WIDE COMPATIBILITY
It is an ergonomic and portable mobile phone game grip for all devices like androids and iPhones. including all other brands. 
EASY TO CARRY FOLDABLE "CRAB CLAW" CAN FOLD TO HALF THE SIZE OF THE PALM, CAN BE EASILY PUT IN THE POCKET, USE IT TO PLAY GAMES OR WATCH MOVIES ANYTIME AND ANYWHERE.