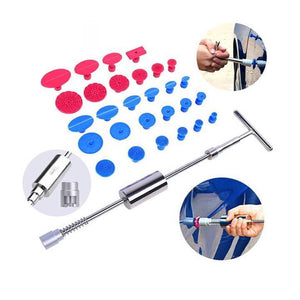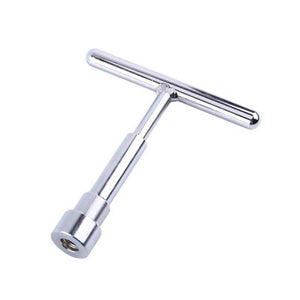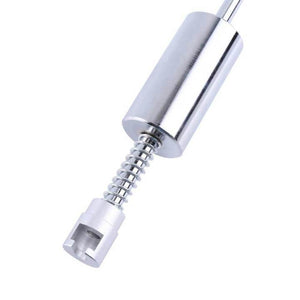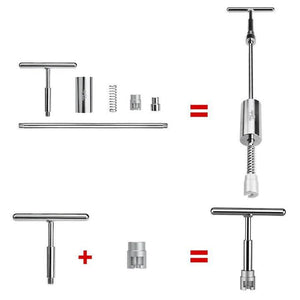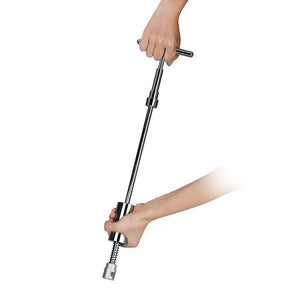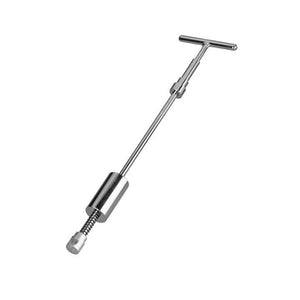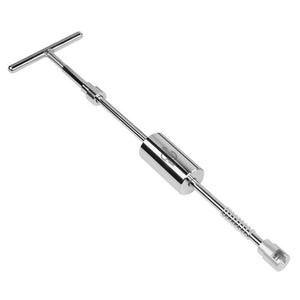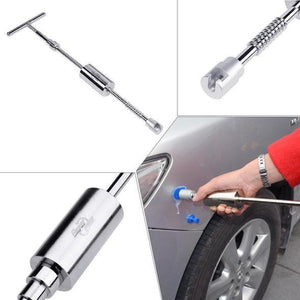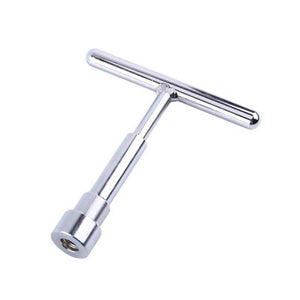 Paintless Dent Repair Kit
  Friendly Warning : You need the glue gun so you can use this tool
There was a point in time when any dent or ding in your car would require an expensive and lengthy visit to a professional auto-body shop before a complete repaint of your car. Then came along paintless dent removal (PDR). Paintless dent repair (PDR) is a low-cost, high-quality alternative to more intense body repairs.
REPAIR MINOR DENTS IN YOUR CAR ALL BY YOURSELF WITH THIS DENT REPAIR KIT. EASY TO USE AND EFFECTIVE, THIS REPAIR KIT CAN GET RID OF THOSE DENTS WITHOUT BREAKING THE BANK !
Includes Paintless Dent Repair Tool, T Bar Slide Hammer + 18x Glue Pulling Tabs. GET the PDR Glue or add it at the post purchase page.
Dents can be repaired in multiple ways, but the only sure way to repair any dent, no matter the depth or size, is to use a slide hammer. A slide hammer is also called a dent puller and is used by every body shop to remove dents.
Why This PDR KIT ?
Benefit One : This PDR Kit saves time
One of the biggest reasons for the increased popularity of our PDR kit is that it takes very little time. Most auto shops can get your car back to you on the same day—versus a three to six day turnaround for traditional repair and paint jobs. This shortened time at the garage eliminates the need for rental vehicles, while your car is in the shop.
Benefit Two : PDR saves your car's resale value
Even better, you get to keep your car's original paint job. There are two benefits to this: not only are you saved from trying to match your original paint job, but the dings and dents fixed with PDR are often kept off your vehicle's information report.
Benefit Three : Use The Slide Hammer T-Bar For Any Dent
The Slide Hammer T-Bar Tool is not only for car dent removal, but also can be used refrigerator, motorcycle body, washing machine and hail damage.
Benefit Four : PDR saves you money
Since PDR does not require paint, Using this Kit for dents and scrapes will save labour time and material cost—and this translates into savings for you. Typically, PDR will save you 50% to 75% of the price it would cost to take your vehicle into a regular body shop.
How much does it cost to fix a dent?

Depending upon the specialist's skill and reputation, you should expect to pay from 
HK$
392.25
 to $120 for a 1-inch dent. Naturally, this base price will increase with the size of the repair — about $10 to $30 for every additional half-inch.
THIS ONE TIME PURCHASE WILL SAVE YOU HUNDREDS AND THOUSANDS OF DOLLARS. SHARE WITH FRIENDS AND FAMILY. LEARN TO DO IT JUST LIKE THE PROS AND SAVE MONEY DOWN THE ROAD!
HERE ARE 7 MORE PAINTLESS DENT REPAIRS BENEFITS YOU WEREN'T AWARE OF
PDR is much more cost-effective than your average traditional dent repair service.
Paintless dent repair can repair dings of all sizes including ones the size of a coconut.
With PDR there is no body fillers, sanding or repainting.
That means the existing paint job remains, so there is no stress trying to match vehicle paint colors.
Common dent repairs can be completed in just a few hours at most.
Antique cars from the 40's, 50's and 60's can also benefit from paintless dent repair without worry of losing its vintage value.
The dents won't come back. Once a panel is repaired, it will retain its original strength.
REPAIR THOSE DENTS RIGHT AT YOUR HOME NOW! GET THIS DENT REPAIR KIT AND START SAVING YOUR CAR AND YOUR MONEY!
How to use
Clean the dented area with a clean wet cloth.
Choose which glue tab is closest to the size and shape of the dent.
Melt the glue on the glue tab and stick the tab on the dented area.
Let it cool for 2-3 minutes.
Use the T-Bar tool to pull the tab gently and repeatedly until the dented area is back in its original shape.
Carefully remove the tab and glue with a plastic shovel and alcohol.
Save your cars from dents now!
Get the best deal for Automotive Dent Repair Kit .

Shipping time may take 1 to 4 weeks due to high demand and limited supplies.

Buy it Now, while supplies last!