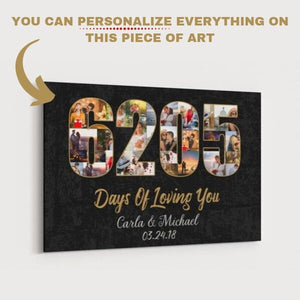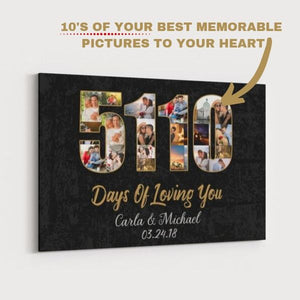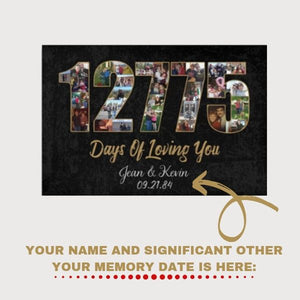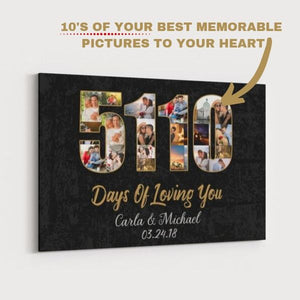 Personalized Canvas Love By Days
 No Two Are The Same
Do you remember the night of your first kiss? Maybe the day you got married to that special someone? How about the day your children were born and you knew your life was going to change for the better? Show the love and affection your significant other deserves.
Numbers don't lie, Neither does love. 
Wayzm.com Has A Designated Design Team And Editing Team Working Around The Clock To Create The Perfect Design For You. Every time you will look at it, you will remember all that brings you happiness and that makes you smile after looking at it.
Choose between the canvas saying "days" or "years", add a significant number, add your name and your significant other's name, and add a date with two numbers in each section.
Designed and Printed In The USA.
We will take the request and print it on the most courageous deep color canvas that you will want to all-around your house. Enhanced Matte Paper Poster
  
Create an 18" x 24" Canvas of the time your heart skipped a beat! Printed on the finest Art Matte paper with over 190g weight. We Searched over the Himalayas and under The Atlantic Ocean for the Most exquisite material for the most fabulous customers in the world. Transform any home, office, or studio into a personal museum with our stunning Date Canvases.
Each poster is digitally printed on high-quality paper with archival, acid-free pigment based inks giving each piece of art an elegant finish. Represent An Amazing DateShow off your special date on premium quality artist-grade canvases.
More durable than paper, with the same high print quality and rich color. Combining the ease of a poster with the quality of a painting, these make perfect gifts.
 
Ready to hang, frame, or stretch. The Specialty made canvases have a slight canvas texture and are more of a matte finish than a gloss. They are flat version of Traditional Canvas.

Materials
Poly cotton blend canvas is acid-free, medium texture with a matte finish
 
Print Technique
Digital printing on premium quality artist-grade canvas using archival quality, pigment-based inks 
 
Features
Full bleed image precisely cut to minimize frayingUV coating is scratch-resistant
Delivery
Printing and shipping the Canvus will take 48 hours. Editing the pictures and drafting the entire final design will take 5-7 days. Our team will draft a couple of copies until they decide to go with the one that looks best. This process takes some time. Sorry about that in advance, but our mission is to deliver a unique pease of art that will stun you. So In general, the total processing time will be between seven to nine days. *