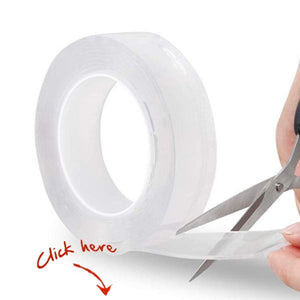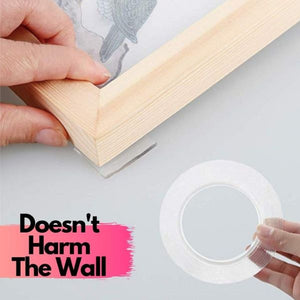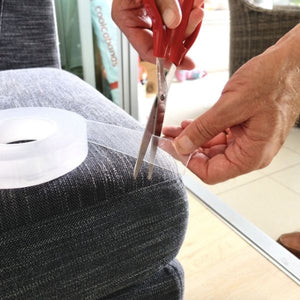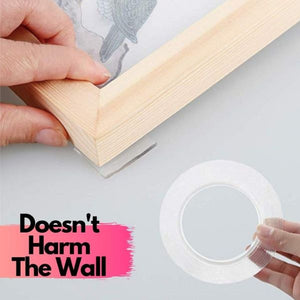 Rhino Reusable Gel Tape
WITH RHINO REUSABLE GEL TAPE

YOU WILL SOLVE ALL OF YOUR PROBLEMS IN NO TIME.

Rhino Tape is a roll of the famous Gel Nano Pad Grip Tape, designed to be the best tape you will ever buy. This tape is the most reliable, useful, and strongest tool for sticking one thing to another.
You can measure out and cut lengths of Rhino Tape Gel pad to suit your every need.
It's perfect for everything from hanging pictures and posters, keeping rugs from moving around, for use as a furniture stop, to everyday uses like organizing cables, sticking your phone or tablet to any surface, or just sticking anything to anything else.
SALES ENDS IN 24 HOURS
Once cut to size, Rhino Tape is easily removable and infinitely washable and reusable. Just make sure to give it a wash each time you remove it from a surface to make it work just like new.
To remove, simply take one corner and pull away lightly with steady force. This will remove the pad from the wall with no damage.
To wash, just run it under warm water and lightly massage the dirt and grime off, then let it air dry.
Easily Cut to Any Size
Easily Removable and Will Not Damage Your Walls or Surfaces
Washable and Infinitely Reusable
1.2" Width
Can Hold Items Up To 7.5 lbs On Smooth Surfaces
0.12" Deep Core
Temperature Range From -20°C To 62°C
Non-Toxic, Recyclable, & Eco-Friendly
If you aren't in love with your purchase. Just let us know within 30 days, and you'll receive a

Stress-FREE Refund

. 
WE SHIP WORLDWIDE. WHERE DO YOU LIVE?
WE HAVE A 100% SATISFACTION GUARANTEE. 
BEST PRICE AVAILABLE WHILE SUPPLIES LAST
1 Year Warranty + Results Guarantee (Included)