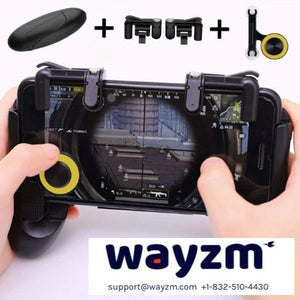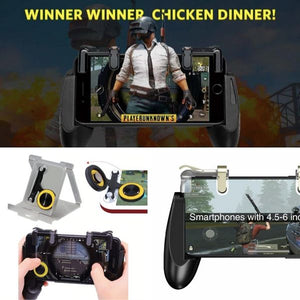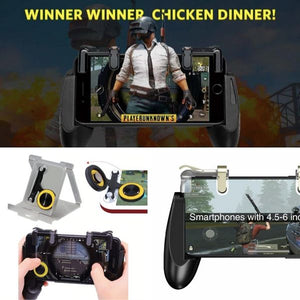 SNIPER 2.0 Mobile Gaming Controller
aim. shoot. dominate like a pro!

limited time only - not sold in stores

now improve your aiming and firing on your favorite battle royal games like pubg, knives out, free fire, survivor royale, rules of survival and shooting games like critical ops.

do you feel restricted to use just your thumbs to maneuver around, to aim and to shoot when playing survival mobile games like rules of survival?

the l1r1 sniper 2.0 allows you to aim and shoot like a pro!

thousands of supported games

pubg, rules of survival, knives out, free fire, survivor royale, critical ops, bullet force, and other games that support onscreen control customization.

support devices: fits all iPhone and Android. sizes from 4.0 - 6.4 inches

q: will this fit my phone?

a: this has an adjustable opening to fit 4.0-inches and 6.4-inches smartphones.

q: will this work with the case on my phone?

a: with the endless number of combinations of phones and cases available in the market, it is impossible for us to say which cases will and will not work with this phone. we can say that it will work with 4.0 inches and 6.4 inches phones without cases!

q: will this work with (insert name of game)?

a: this is designed to work with any game that allows in-game control customization.

q: can I charge my phone while using this?

a: yes, there is an opening on the side of the handle to allow a phone charger to reach the port.

q: is this a Bluetooth controller?

a: no, there is no Bluetooth needed. this uses a touch technology that allows the triggers to touch the area of the screen of the aim and shoot button. 

q: does it have a way to cool my phone while playing?

a: yes, sniper designed in a way that allows heat to escape from the mesh holes on the back. it will allow your device to cool down while playing, even with a phone case in use. 

q: free shipping available?

a: yes, we ship worldwide for over 80 countries around the world. also, we have another option for $4.95 that will expedite your order in processing and shipping as well.